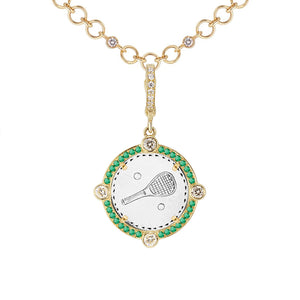 Tennis Racket in 14k, Emerald & NSEW Diamond Bezel
Regular price $2,850.00 Sale
Perfect for the tennis lover in your life, this pendant is comprised of a US Seated Liberty Dime with a tennis racket set in an emerald bezel with 4 2.5mm diamonds at NSEW.  0.80 emerald carat weight, 0.40 diamond carat weight.  

It comes as no surprise that someone chose tennis rackets to engrave on this love token.  Most historians believe tennis originated in monastic cloisters in the 12th century as jeu de paume, game of the palm, as the ball was struck with the palm of the hand. It was not until the 16th century that rackets were used, the game was moved indoors and began to be called tennis, or real tennis as we now refer to it. It was widely enjoyed by royalty and nobility through the 18th century, when its popularity was eclipsed by other racquet sports: racquets, squash racquets and lawn tennis, the game played at Wimbledon. Major Walter Clopton Wingfield began experimenting with a lawn version of tennis, patenting a New and Improved Court for Playing the Ancient Game of Tennis and began marketing his game in the spring of 1874 selling boxed sets that included rubber balls imported from Germany as well as a net, poles, court markers, rackets and an instruction manual. How, where and by whom lawn tennis was introduced to the United States is a matter of debate Mary Ewing Outerbridge is credited as having introduced tennis to the New York area, after noticing British army officers stationed in Bermuda playing tennis on a cricket field using the Major's tennis set. The men gave her a set and she brought it back, setting up a court at the Staten Island Cricket and Baseball Club, starting a trend among the upper classes and leading to the establishment of tennis clubs, including one in our home town, the New Orleans Lawn and Tennis Club established in 1976. 
Bezels are made to order, please allow 4-6 weeks for delivery.  Made to order love token pendants are non refundable.